MAIDEN CASTLE & SILVERLAKE, DORCHESTER – CROSSWAYS WATER CRESS BEDS – RSPB LYTCHETT FIELDS – MIDDLEBEARE, ARNE PENNINSULAR
WEATHER: overcast with sunshine and showers. Top temp 17C
We had a much better day today with some terrific birding and we added two species to Peter & Dinah's years list which now stands at 199. I collected from their hotel in Weymouth and drove up to Dorchester stopping at the enormous Iron-Age Hill Fort called Maiden Castle. The surrounding open meadows host one of last remaining enclaves of Corn Buntings in Dorset and my companions needed the bunting for their list.
We parked near the main car park and it took all of 2 minutes to find a Corn Bunting, it was a lovely clear and still morning and the bunting was celebrating that with a few verses of song. We went on to the car park and found several more and at least two of them were also singing. Skylarks dashed over us also calling as did a humungous flock of Linnets, they descended onto a field full of ripening sunflowers.
Corn Bunting - the bird I love to hate when I am in Europe, if you know me then you know why!
Large movements of corvids and gulls could be seen as well as Wood Pigeons, a few Stonecats, Meadow Pipits and we saw two Common Buzzards. I love this place which will soon play host to large flock of wintering Golden Plover. We also saw a couple of Hares in the distance.
We drove from the south of Dorchester to a few miles east where a large, landscaped development, has turned out to be quite a bird haven. The gravel Pits at Silver Lake are excellent for ducks, geese, grebes and waders and the open countryside around them are excellent for a number of other species. Our main target was the Woodlark which had bred in recent years, but it looks to me as though they have left because the habitat does not suit them any longer.
two views of Siklverlake, the water level is really low just now.
We quickly listed Common Pochard, Tufted Duck, Wigeon, Teal, Gadwall, Canada Goose, Mute Swan, Great Crested Grebe, Little Grebe, Common and Green Sandpipers. A Kingfisher sat on a depth pole and we heard a Green Woodpecker calling in the distance.
Scoping the far pools we added Egyptian Goose and then we heard the calamitous calling of hundreds of geese, moments later at least 500 Canada Geese came flying over a distant wood to land in the lakes, what a noisy mob!
From Silverlake we drove towards Wareham stopping at the Watercress beds at Crossways. They were fairly quiet, we saw lots of Pied Wagtails, a few Meadow Pipits and not much else. We only stayed for a short while before driving off.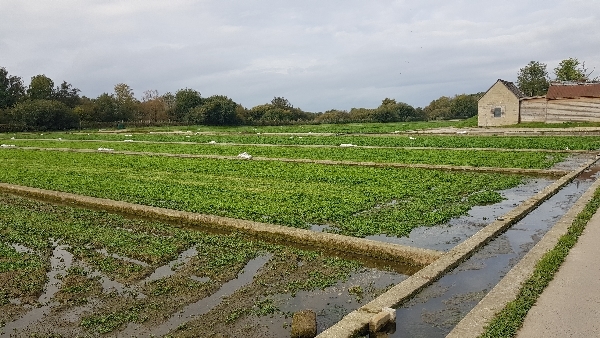 the Watercress beds were fairly quiet today
A mile or so after Bere Regis we turned off the A5 towards Wareham and then turned onto a lane, pulling over at the first gateway we came to. This is an excellent area where to look for Yellowhammers. We found half a dozen within five minutes, click, click, job done, back in the car.
the lovely Yellowhammer, now that is a nice bunting!
RSPB Lytchett Fields lies just outside the village of Lytchett Minster and comprises of two large water meadows which mostly flood during hide tide and provide a safe haven for many species of ducks, gulls and waders during this period.
We found a Goldcrest on the way down from the car park and a Stonecat in the first meadow. From the viewing points (there no hides yet) we saw that it was high tide and most of the birds were asleep on distant island or feeding in the marsh. We quickly noted dozens of Teal and Black-tailed Godwits, lots of Lapwing, Wigeon, Black-headed Gulls and dozens of Redshank with a couple of Greenshank.
the flooded meadows at Lytchett Fields
Scoping the islands we eventually pulled out a Spotted Redshank but it moved every time I tried to show my companions, I did get them to see two Curlew Sandpipers. It rained for a while whilst we were there.
a Black-tailed Godwit at Lytchett
On the way back to the car we heard the Goldcrest again but this time a Firecrest was with it! Wow! Another bird for their year list. We also Nuthatch, Blue & Great Tits and lots of Robins.
We arrived at the car park at Middlebeare around 1pm, we sat on a damp grassy bank and ate our picnic lunch before walking to hide which overlooks Middlebeare 'Lake'. We saw seven Mistle Thrushes fly over us and we had a short glimpse of Dartford Warbler on the gorse.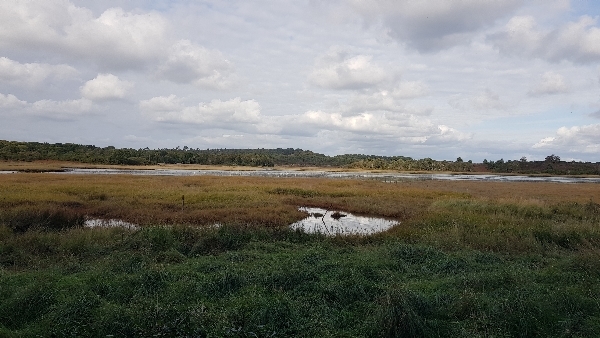 a view from the hide at Middlebeare, all the birds were in the distant strip of water and mud.
There were thousands of birds on the exposed mud on a receding tide viewed from the hide it was fantastic to see. All the birds were distance and a scope was necessary to identify some of the birds. The large number of Avocets was impressive as well as the huge flocks of Black-tailed Godwits, they outnumbered the Wigeon and Teal which were joined by Curlews, Mallards, a few Pintails, some Common Shelduck and lots of Little Egrets.
a record shot of one of the Spotted Redshanks, standing behind some Teal
We sifted through the large groups of Redshanks and pulled out four Spotted Redshanks, two Greenshanks and Grey Plover (we only noticed the latter after inspecting one of our photographs!). After a short while the whole host of birds took to the air, it was an incredible sight, such colour and movement and noise, we searched for a bird of prey but did not see one.
My favourite photograph of the day shows the movement and colour of the flying birds. See if you pick out Avocvets, BT Godwits, Redshank, Teal, Wigfeon, Pintail and a Grey Plover
We left Middlebeare at 4pm, we added Coal Tit to our list on the way back to the car. We also saw a couple of Sika Deer and heard the males bellowing out their calls during this rutting season.
We returned to Weymouth arriving at 5pm and I drove back to Stoford getting home a little before 6pm.