PICNICS BY THE RIO GUADIARO AT ESTACION CORTES AND EL COLMENAR
It really is warm over here in Spain this summer, temperatures often reach 38 - 40C and wit no breeze it is stifling. We often sit in front of a fan and watch TV in a darkened room. Even at 7am, just as it gets light it can reach 25C+.
On the odd occasion when a breeze picks up we go down to the river and sit below our favourite tree at Estacion Cortes or under the bridge at El Colmenar. Yesterday, we sat under the Bridge and even with a breeze it was too hot to stay for very long.
Dawn, sitting under the Bridge at El Colmenar
We did stay for at least 3 hours, moving our belongings and chairs every so often as the shadow of the bridge moved as the sun crossed the sky. I was hoping to take a digi-picture of the 'Ringed Cascader (Zygonyx torridus) this beautiful dragonfly comes down to the river about 11am and patrols a territory all day long. It relentlessly chases off rival males and zooms after any passing females. It never stops, I have only seen one settle, in all the times I have watched this species.
Orange-winged Dropwing
Today I was more vigilent than ever, there was four males patrolling territories very close to us, two we just a couple of meters away, so I sat and waited, and waited, and waited, for one to settle.
It was 2pm when I saw the nearest male settle on a stem, it stayed for about 5 nanoseconds and flew off, but then it returned to the same stem and repeated the behaviour. I focused the scope onto the stem, held my phone to my scope and waited. It landed again, click, click......I missed it! It landed higher up on the same stem. I re-focused and waited again........click, click,,,,got the little bugger!!
This picture was 3 -hours in the making so please appreciate it, what a beauty!!!
Zygonyx torridus - Ringed Cascader, taken at the Rio Guadiaro, El Colemar, Andaulcia.
Another intriguing invader from Africa is the minscule African Grass Blue Butterfly, they love the short turf along the banks of the river and feed on mint which also grows abundantly along the banks.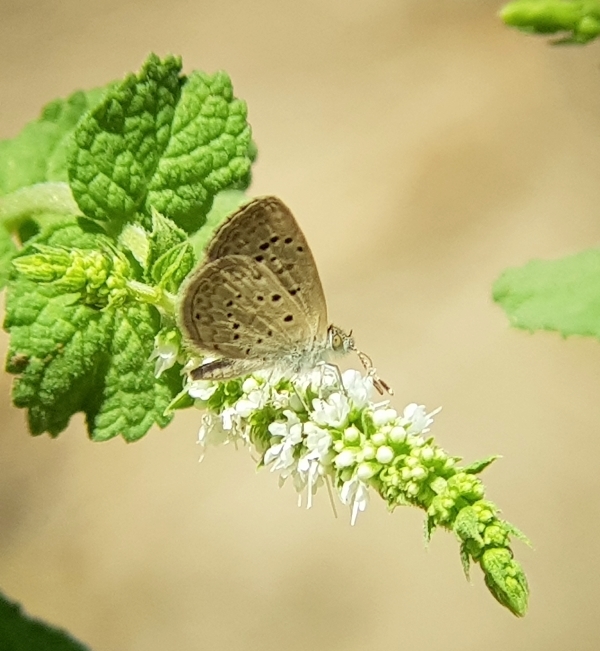 two pictures of African Grass Blue feeding on mint
Whilst waiting patiently for Zygonyx I noticed several other butterfly species flitting about: Scarce Swallowtail, Cleopatra, Meadow Brown, Lang's Short-tailed Blue, Clouded Yellow and several Small unidentified whites.
Many other dragonflies were also on the wing: Red-viened Darter, Yellow-winged Dropwing, Small Pincertail and Epaulet Skimmer.
Epaulet Skimmer - Orthetrum chrysostigma - you can easily see the narrow abdomen and the waisted (pinched) area near ther base of the abdomen.
Female Red-veined Darter
Other wildlife included several nice sightings of a Hoopoe or a pair of them. They made frequent journeys upriver and back. A Cetti's Warbler fed along the rocks on the far bank and I saw fly-over Serin, Grey Wagtail, Goldfinch and a couple of Warbler species (phylloscopus). There was no sign of raptor migration passage nor was there any sight or sound of Bee-eaters.
Dawn picked up this Scarce Swallowtail - we couldn't find anything wrong with it but it would not fly off?