MARTHA'S VINEYARD- OUR LAST MORNING
Little Beach - Edgartown - Martha's Haven
WEATHER; another gorgeous, cloud free day. Temp. 20C
We took a more leisurely approach to our birding today, a little lie-in, breakfast at 8am and out by 8:30am. We only had 3 hours to play with because Dawn and I were due to catch the 12 noon ferry crossing back to the mainland.
Gulls on the jetty
Lanny took us to several coastal spots along the north and eastern side of the island. We stopped just outside of the Haven to look at Laughing Gulls perched on a jetty alongside Ring-billed, American Herring & Great Black-backed Gulls, also Double-crested Cormorants. In the bay we saw White-Winged Scoters, a couple of Common Loons and 3 King Eiders.
Laughing Gull
Near Edgartown we stopped to watch a flock of Fish Crows, a small crow very much like a Eurasian Jackdaw in size and flocking behaviour. A few Sanderling ran along the beach nearby.
Fish Crows on the beach
We spent the bulk of our 3 hours at Little Beach where we saw several wader species and our first Red-throated Loons. Excellent close views were had of Black-bellied Plovers, American Oystercatchers, Sanderling, Dunlin and our first Ruddy Turnstones.
Black-bellied Plovers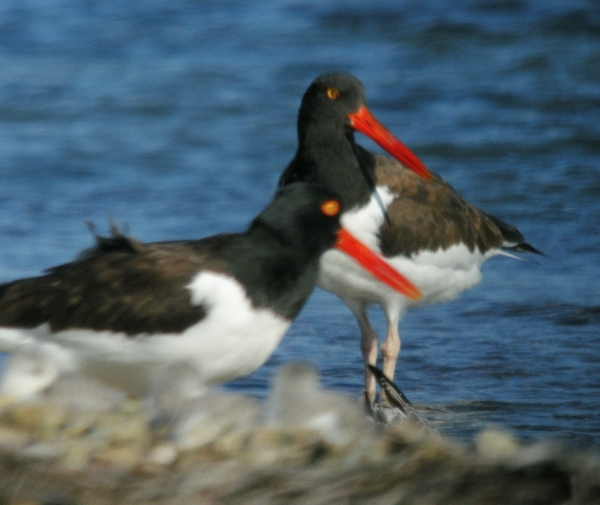 American Oystercatchers
It was soon time to leave, Lanny dropped us at the ferry, we said our farewells and boarded. By 4pm we were back in New Haven with John and Sophie, our whirlwind trip to the Vineyard was over, we logged 71 species during our visit and enjoyed every minute thanks to Lanny.
Goodbye to Lanny, until next time buddy!