STOCKTON - NEW JERSEY
On Thursday 26th - Day 16
We stayed around the house for most of the day - it was wet and windy and no-one had much inclination to venture out. So apart from a couple of garden birds nothing of note was recorded today.
Friday 27th - Day 17
In complete contrast today was a beautiful, cloudless, sunny day, with no wind and a top temperaure of 18C. Our host John travels across to New Jersey a couple of times a week where he does some voluntary work on a flower farm owned by a good friend of his. We jumped at the chance of joining him, not to work of course, but to walk the tracks and trails around the farm.
We crossed the Delaware River into New Jersey and drove along country roads through some stunning scenery to a small town called Stockton where the flower farm can be found. For the first hour Dawn and I walked around the farm and the tracks over the fields we saw plenty of birds and othr wildlife. Blue Jays where everywhere each and every one of them was carrying acorns and flying off to bury them. Dozens of Gray Squirrels were doing the same thing.
I know it should be called Red-headed Woodpecker but it is a Red-bellied Woodpecker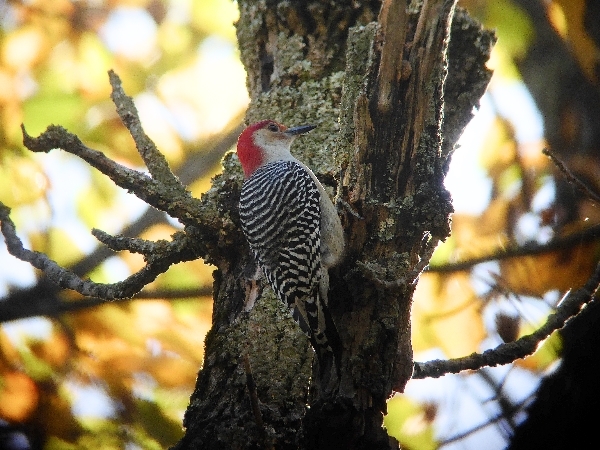 We watched White-breasted Nuthatches, Song, Chipping and White-throated Sparrows, Eastern Bluebird, Red-bellied Woodpecker, American Crows, a Cooper's Hawk, Red-tailed Hawk and the prized bird was a Bald Eagle which circled low over the top of us before drifting off. We also saw White-tailed Deer, Gophers and Chipmonks.
A Pocket Gopher - don't ask which species
The approach track to the farm is a about a mile long long, winding its way through the most colourful woodland, the leaves were all shades of yellow, red, brown and green, Dawn clicked away using her camera to great effect whilst I tried to get the odd picture by digi-scoping. We saw more woodpeckers, a Yellow-bellied Sapsucker and a Red-tailed Hawk carrying a Gray Squirrel, I don't think the hawk was giving the squirrel a free ride across the road.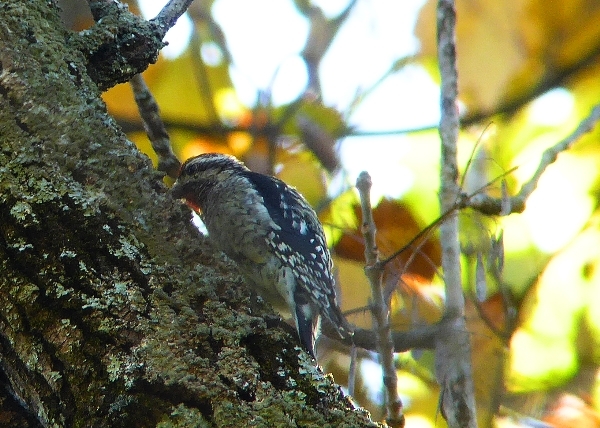 a record shot of the Yellow-bellied Sapsucker
Our walk to us back to the main road and along a canal bank next to the Delaware River. This canal had been hand-dug using Irish Labourers around 1860, many suffered great hardship and death during the building of the canal. Today it lies unused except for tourists in the summer months and fishermen, but it is a haven for wildlife.
Cedar Waxwing
We saw flocks of Cedar Waxwings, they were flycatching from the canopy and were joined by good numbers of Yellow-rumped Warblers doing the same thing. More woodpeckers appeared, including Downy and Yellow-bellied Sapsuckers but we failed to find a Pileated Woodpecker which I most wanted to see.
White-throated Sparrow
After a coffee stop we walked back to the farm and before we left for home we watched several species on the farm driveway, including Dark-eyed Junco, Least Flycatcher, Chipping Sparrow and Yellow-rumped Warbler.
Dark-eyed Junco
We left early, around 3pm because we had to be back to prepare for the official Haloween night in Allentown. Hundreds of Ghosts and Ghouls would be trolling the streets 'Trick or Treating' and we had to have a bucket of 'candy' ready for the treats. It really was fun, I think the adults enjoyed it just as much as the kids, the costumes worn by some were very impressive and quite scary.
This child dieted for weeks to fit into this ghost costume!