A MORNING WALK FROM SHERFORD BRIDGE THROUGH PARTS OF WAREHAM FOREST
WEATHER: dull, overcast, a chilly wind from the east. 8C
Dawn and I got out of the house and drove to Wareham Forest via Dorchester where we stopped for a little shopping along the way.
The track we took at Wareham runs almost straight across the north end of the forest, passing open heath, of heather and gorse and many stands of pine of various ages. There are some small areas of silver birch, oak and hazel and the stream is bordered by alder.
Pine woods with small patches of gorse and heather
It was very quiet as we made our way from the car park at Sherford Bridge,we walked for a solid hour before turning around and heading back. A few species were seen but we were not really birding, I have sent my bins to Swarovski Optics for refurbishing and I didn't take my scope.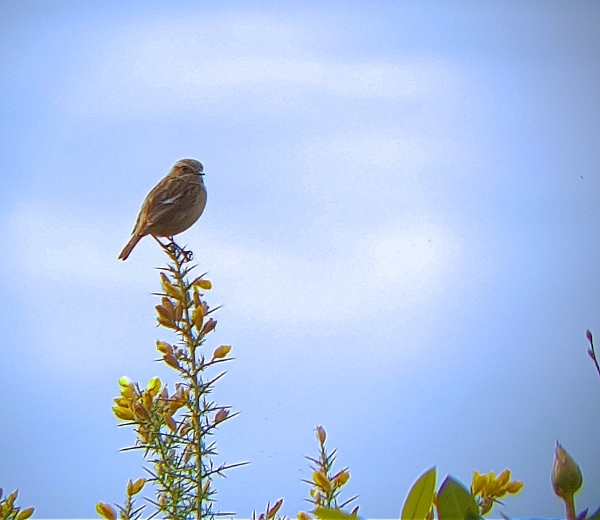 Common Stonechat - digi-binning using Dawns 'Delta' binoculars, they are rubbish I must get her a new pair
I was hoping to hear Woodlark but none sang, we see and hear Dartford Warbler, Common Stonechat, Blue Tit and many common woodland species. On the way back we bumped into a small flock feeding in the silver birch trees, we saw Coal Tit and to our great delight a pair of MARSH TITS we feeding there too.
record shot of a Dartford Warbler
We hardly saw a sole out there, just two dog walkers, it was great to get out of the house.