HARWOOD DALE – FILEY DAMS – DRIVE TO YORK
WEATHER; another cloudy start but brighter later with some sunshine. Temp 16C
We gathered in the car park at 6:30am to make an early morning attempt to see the elusive Turtle Dove, the short drive to Harwood Dale took us 10 minutes, we were all in place at the stakeout minutes afterwards.
The garden feeders where the Turtle Doves had been appearing were very busy, dozen of both Tree and House Sparrows were joined by Chaffinches, Greenfinches, Yellowhammers, Dunnocks, Blue & Great Tits, a couple of Nuthatches, Great Spotted Woodpecker and a single Collared Dove.
Oystercatcher, Mallards and Mandarins seen at the lake at Harwick Farm
We waited and waited, but alas, the Turtle Dove did not appear, we searched the surrounding fields and hedges where we found Wood Pigeons, Jackdaws, Stock Doves, Blackbirds and Robins, but not the T Dove.
We gave up and drove a mile down the road to Harwick Farm, where a large man-made lake held many ducks and geese. Greylag and Canada Geese were joined by Mallards and other dodgy looking farmyard ducks and geese, we saw a single Wigeon and a small flock of Mandarin Ducks. An Oystercatcher flew in and we found a female Mandarin Duck with about four well developed chicks, we left the area soon afterwards.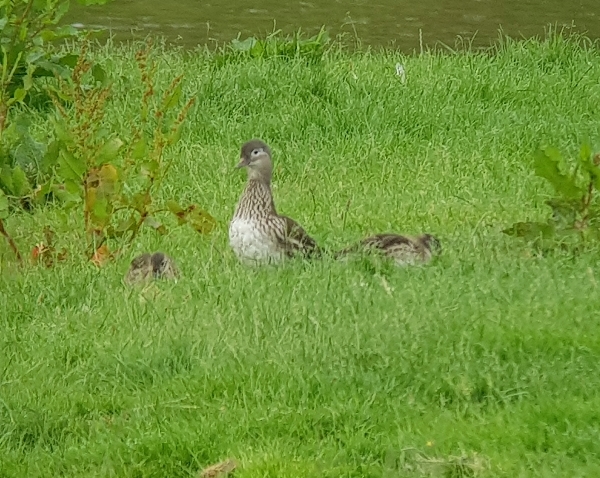 a female Mandarin Duck with chicks
We were all packed, with luggage loaded onto the buses, we had checked out of the hotel and were ready to go at 9:30am. We said our farewells to the lovely staff and set off for Filey Dams, a Yorkshire Wildlife Reserve about 30 minutes away.
For two hours we viewed the pools and wader scrapes from three hides, there was also a viewing platform overlooking a reed-fringed pool. A constant background of Tree Sparrow calls accompanied us throughout our stay.
the bird of the day - Black-tailed Godwit
Out on the water and the small islands we found a good variety of species, the reedbeds provided views of both Sedge and Reed Warblers, whilst the trees provided views of Tree Sparrows, Stock Doves and a few common garden species.
Little Grebe with Mallard
The star bird of the day was undoubtedly the summer-plumaged Black-tailed Godwit, it looked superb in the bright sunlight, probably a failed breeding bird returning south earlier than usual. We also found two more new species for our list with the presence of a flock of Lapwings and a single Little Egret, they joined Teal, Oystercatchers, Grey Heron, Mallards, Moorhens, Coots, Little Grebes, Herring Gulls and a single juvenile Great Black-backed Gull.
Great Black-backed Gull with Teal
Swallows and House Martins swooped down over the water and Common Swifts dashed about on high. We saw a few damselfly species, a Broad Bodied Chaser and a Speckled Wood butterfly.
Stcok Dove
At 12 noon we set off for York Railway station, the roads were relatively quiet and we arrived in good time at 1:20pm. The group left to catch their train whilst Nigel and I drove home in the bus.
Jackdaws enjoying a bath
I dropped Nigel in Chepstow at 5:45pm and then drove home arriving at 7:15pm, it had been a long drive but the traffic was fairly light all the way. Thus ended the long-weekend break to the Yorkshire coastline. It had been a great trip and very enjoyable. The highlights had to be the visit to Bempton Cliffs and Flamborough Head, a wildlife spectacle and a birding experience never to be forgotten, it was truly amazing.