BIRDS AND BUTTERFLIES - 7-DAY BREAK (6 nights)
JUNE 29TH - JUly 5TH 2019
LEADER: BOB BUCKLER
This 7-day break combines a mixture of birding and butterfly watching with no emphasis on either unless the weather dictates. Wherever we go birding there are sure to be butterflies, dragonflies and other interesting insects to look at.
We visit a good number of habitats and pass through some of the most scenic landscapes in Spain and depending on the spring rains there will be vast range of colourful flowers to brighten your day.
The Birds
During our 7 day-breaks some time will be spent looking for breeding birds species of mountain, river, woodland and coastal lagoons; there are a few unusual species found in our area such as White-rumped and Alpine Swifts, Bonelli's Eagle, Rufous Bush Robin, Red-necked Nightjar, Spectacled, Olivaceous and Orphean Warblers, Crested Tit, Firecrest and Cirl Bunting. Down at the coast we can look for Collared Pratincole, Stone Curlew, the re-introduced BALD IBIS, also Eagle Owl and several waders, gulls, terns, herons and egrets.
We will spend time at Tarifa, La Janda and Barbate where a mixture of coastal habitats gives us the opportunity to see up 100 species in a single day's outing.
An evening outing may produce sightings of Red-necked Nightjar, Little, Tawny and Barn Owl as well a couple of mammals including the GENET.
A day in the mountainous region of The Serrania de Ronda will provide us with an opportunity to look for Bonelli's & Golden Eagle, Black Wheatear, Rock Sparrow, Rock Bunting, Spectacled Warbler and Common Rock Thrush. All in all this is a great summer trip with some glorious weather, great birds, wonderful butterflies and beautiful scenery.
A little further afield we will visit the lakes region around Campillos where a series of small lagoons hold breeding White-headed Duck, sometimes Red-knobbed Coots. Red-crested Pochard, Black-necked Grebes and the unmissable Greater Flamingo. The larger and often seasonal Laguna Fuente de Piedra can support up 10,000 of these large pink avian giants. This laguna also supports good numbers of Whiskered and Gull-billed Terns, Common Shelduck, Black-winged Stilts, Pied Avocets and there is always a good selection of passage waders throughout the year (when there is water in the laguna).
The Butterflies
Wherever we go there will be butterflies on the wing, the most common at this time of the year are Cleopatra, Marbled Whites, Swallowtails, Monarch, Fritillaries, many Blues including Marazine, Spanish chalk-hill, Green-underside,Iolas,Adonis & Silver-studded. There are also several Graylings, Heaths, Whites, Hairstreaks, Gatekeepers and lots of Skippers to keep us busy.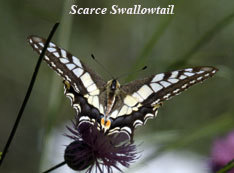 For the more enthusiastic butterfly watcher we can take a more thorough search in the Sierra de la Grazalema Natuonal Park which is a prime location for many species. Most notable records for the park include mallow, southern marbled, sage and safflower skippers, both swallowtails, Two-tailed Pasha, black-veined white, large tortoiseshell (often on the wing from February onwards), cardinal, many fritillaries - Niobe, Queen of Spain, Provencal, knapweed, Aetherie, Spanish and marsh - two-tailed pasha, dusky heath, dusky meadow brown, Spanish and southern gatekeepers, rock, tree and striped graylings, nettle-tree butterfly, Spanish purple, blue-spot and Provence hairstreaks, purple-shot copper (subspecies boyarensis), long-tailed, African grass, Osiris, Lorquin's, Green-underside, Iolas, Panoptes, False Baton and Spanish Chalk-hill blues.
Another excellent area for butterflies is the nearby Sierra de las Nieves a parque natural of some 20,172ha and also a Biosphere Reserve. This karst landscape is found to the east of Ronda incorporating extensive Spanish fir forests. On the higher north-facing slopes the parque supports abundant Spanish Lorquin's and Green-underside Blues, Spanish fritillary, Western Marbled White and many butterfly species mentioned above.
What is included in our 7-day Andalucía Tour?
Airport transfer

Six night's accommodation with breakfast, lunch, evening meal and wine.

Five full days of guided birdi/butterfly tours and some birding on arrival and departure days.

The guiding services and all land transportation.

A "tick-list" of seasonal birds and butterflies of the region and evening bird-log

What is not included?

Air fares.

Personal holiday insurance.

All items of a personal nature, i.e. Drinks, snacks and telephone calls.

To book your place please contact us by e-mail and we will reply with 48 hours with all the information you need to book your place. Novices, beginners, accomplished and well-travelled birders are all welcome,
Latest Trip Reports
Great weather, beautiful scenery, great birding and lots of butterflies..........a most enjoyable week

View Report