THE GAMBIA
NOVEMBER 14th - November 28th 2023
LEADERS: BOB BUCKLER & MODOU COLLEY
GROUP SIZE 6-10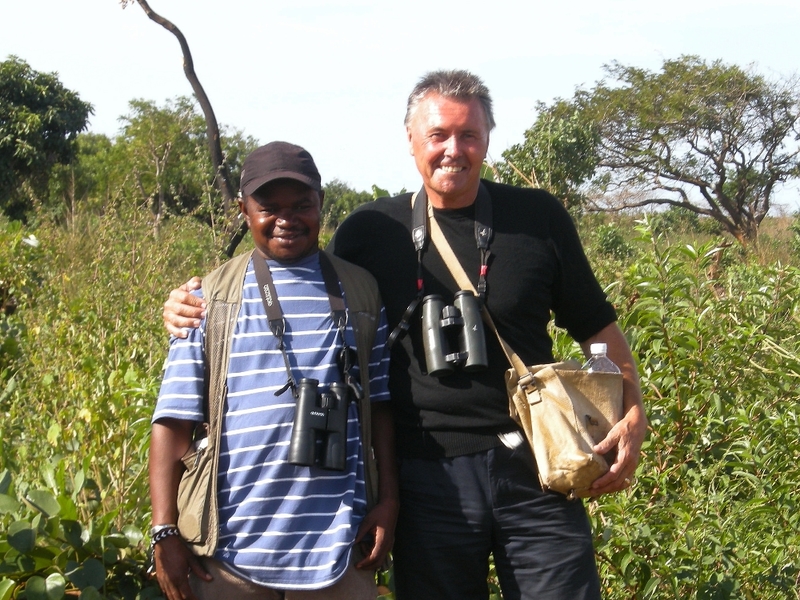 PRICE: £2250 PER PERSON SHARING A TWIN/DOUBLE ROOM – SINGLE SUPPLEMENT £250
The Gambia has to be the best possible introduction to African birding, and our tours are an enjoyable way to see them and to experience a fantastic and memorable holiday: We are very competitively priced, we use the best hotels and we visit all the sites sought out by other companies plus many more. Our local guides have vast experience, they speak four local languages and are extremely good at calling birds in.
On the coast we use the Senegambia Hotel, a comfortable hotel set in 20 acres of bird-filled tropical gardens, air-conditioning is included in the price. There are large picture windows in every room, all rooms have en-suite facilities, with good food and fantastic birding literally on your doorstep. There are two swimming pools, a private beach and beach bar for those hot afternoons if you want to relax during our siesta time.
EASY
Birds in the Gambia are not hard to find, they are found everywhere, up to 30 species can be seen in the hotel grounds! Every bush, tree and area of grass seems to hold one or two birds. You just need someone to show you where to look and tell you what they are!
EXOTIC
a vast range of the most colourful African species can be seen in the Gambia, some are right on your doorstep with Common Gonolek, White-crowned Robin-Chat, Firefinch, Red-cheeked Cordon Bleu, and Senegal Parrot to name just a few that can be found in the hotel grounds.
Just wait until you see Beautiful Sunbird, Blue Breasted Kingfisher, Abyssinian Roller, Lavender Waxbill and Sudan Golden Sparrow, they will just blow you away with their colours.
EXTRAORDINARY
there are some weird shapes and evolutionary quirks to be seen in the avian world of The Gambia. The prehistoric looking Hammerkop is one of them, a very common bird seen everywhere near water, a mythical beast associated with traditional magical legends.
There are the extremely long tail-feathers of the Paradise Whydah, it looks like a flying black Squirrel as it flits across the bush. The Bearded Barbet, is a very odd looking bird too, the tiny Namaqua Dove is so cute and the unusual red feathering of the aptly named Cut-throat Finch, these are just a few of the strange sights that await you.
Everywhere you look, new sights and sounds greet you, it will take you a few days just to sort out the calls of the numerous Doves: there are Laughing Doves, Mourning Doves, Vinaceous Doves, African Collared Doves, Red-eyed Doves, Wood Doves and several Pigeons all cooing and crooning at the same time. One surprising range of calls comes from the Hornbills, not what you would expect at all, intriguing to say the least.
The beautiful Little Bee-eater
COLOURFUL
you will see an amazing variety of plumage: the Beautiful Sunbird has six different colours, the Bee-eaters are terrific and the Kingfishers are simply stunning.
DIVERSE
You may see 8 Kingfishers, 7 Bee-eaters, 12 Sunbirds, 10 Doves, 6 Weavers and over 30 species of raptor, , it's just amazing, you can expect to see around 280-320 species on our tours.
ABUNDANT
Over 540 species have been recorded in this tiny African country. You don't have to travel far to see them and everywhere you stop there are birds to see and not just the odd one there are small flocks of most species!
Itinerary
A typical 15 day Wingspan Tour
Day 1
Arrive late afternoon, Transfer and check into hotel. Afternoon walk in the hotel grounds and in the evening a meeting with our guides to discuss the itinerary.
Day 2
Morning excursion to Kotu Stream, Kotu sewerage works, rice paddies and golf course area, then back to the hotel followed by a late afternoon excursion to Bijilo Forest.
Day 3
Morning excursion to Abuko Nature Reserve, lunch at Lamin lodge, afternoon excursion to Lamin Rice Fields.
Day 4
Full day excursion to Marakissa area, lunch at Marakissa River Camp, afternoon excursion around the Camp.
Day 5
Morning excursion to Brufut Wood and Tanji Wetland, lunch at Tanji lodge, afternoon excursion to Bund Road.
Day 6
Full day to Faraba Banta bush track with picnic lunch.
Day 7
Leave hotel after breakfast travel to Tendaba, many stops on the way with picnic lunch. Arrive at Tendaba Camp, dinner and overnight at Tendaba
Day 8
After breakfast, boat trip to Tendaba creek, lunch at Tendaba Camp. Afternoon excursion to Tendaba airfield and back to Tendaba camp for dinner, night at Tendaba
Day 9
After Breakfast leave Tendaba to Georgetown, birding stops along the way with picnic lunch, arrive Boabolong Camp, dinner and overnight.
Day 10
After Breakfast, morning boat trip from Georgetown, lunch on the boat. Birding stop at Sapu, drive back to Baobolong overnight
Day 11
Breakfast, leave Baobolong camp to Tendaba, birding along the way, cross the ferry at Farafenni overnight at Tendaba
Day 12
Breakfast, leave Tendaba and head for the hotel back at the coast, stops on the way with picnic lunch, overnight at the hotel.
Day 13
Breakfast, excursion to Tujering Wood, lunch at Sanyang beach, afternoon excursion to Sanyang Rice Field and back to hotel.
Day 14
After Breakfast, morning excursion to Pirang Forest for 3HR walk on bush trail. Back to hotel for afternoon local walk
Day 15
After breakfast a choice of lounging in the hotel grounds or a local excursion to try to locate any species we may have missed.
1pm depart for airport for an afternoon flight home.
This itinerary is intended for guidance only and may change at the discretion of the guides.
What to expect
An exciting and educational 15-day birdwatching tour of the Gambia. Day-light hours are between 7am and 7pm and are tropical in temperature and humidity.
A typical day will begin with an outdoor breakfast at seven, followed by a morning excursion, then lunch, with a rest after lunch (at the time when it is hot and relatively 'birdless').An afternoon birding excursion around 4pm. Dinner will be between 7:000 and 8pm.
We are not a company that dashes around to collect as many ticks as possible, we do not compete with anyone, we would like to show you as many species as we can at our own pace. Expect to see around 280 - 320 during the 15 day tour.
Lunches are not included. They will be taken as picnics which can be bought at local shops, others will be taken at various lodges and camps. There will be ample opportunity to buy local bread and fruit for picnic lunches whilst we are travelling, allow £2-3 per day for them. Food at dinner and breakfast is good, mostly western in style at our hotel on the coast. Meals upriver are more simple, but wholesome. Vegetarians are catered for. Water is supplied daily.
Accommodation
On the coast we stay at the Hotel Senegambia, one of the Gambia's most popular tourist hotels.
Our price includes air-conditioning and private facilities in all rooms. The hotel's 20 acres of bird-rich tropical gardens are a delight. The beach and swimming pool make it an excellent place to relax between our various birding trips and for those that want to take time out from birding
Accommodation upriver is the best available: basic but clean and delightful, in simple thatched huts of rustic local design. All rooms are en suite (cold water shower and WC), and with the benefit of a cooling fan (air-con and hot water are not available upriver in the Gambia). Electricity is supplied via a generator which may sometimes be switched off during sleeping hours - bring a torch! All beds are equipped with mosquito nets and the spraying of rooms is carried out daily.
Walking
Walking is easy, mostly we take short walks up to about 3 kilometers over easy flat terrain, The Gambia has no hills!. Comfy high-sided walking shoes with sturdy corrugated soles for grip are best.
Boat Trips
There will be 2 -3 boat trips, by far the most exciting is the 'CREEK CRAWL' taken whilst we are staying at Tendaba Camp, we venture into miles of untouched mangrove swamps, drifting down narrow channels. The silence broken only by a cacophony of bird song, Birding doesn't get much better than this, we see on average 70 species and get very close to a lot of them. There is always a chance of seeing the Goliath Heron, the White-backed Night-Heron, African Fish-Eagle and the Majestic MARTIAL EAGLE.
A morning boat trip from Georgetown to seek out the African Finfoot may also produce sightings of the rare SHINING-BLUE KINGFISHER we have been successful with this bird on a number of occassions.
There will also be a 'Hippo' Cruise whilst we are Georgetown, this late afternoon trip will also give you the opportunity to see many other mammals and birds and ends with sightings of hundreds of herons and egrets flying off to their roosts across an orange sky as the sun sets over the river.
PLEASE NOTE THAT THE HIPPO CRUISE AND THE FINFOOT BOAT TRIP MAYBE BE COMBINED DEPENDING ON THE TIDES AND AT THE DESCRETION OF THE GUIDES.
All boat trips and ferry crossings are included in the price, we have the exclusive charter of all our boat trips and so are free to explore at our leisure.
General Information
The Gambia is hot and sometimes humid in November but rain is rare. We lead at a leisurely pace but the heat can be uncomfortable at times. On several days we will split the birding into two sessions, with a break at the hotel in the middle of the day so that we can relax during the heat of the day.
There are a number of health requirements for the Gambia and you must consult your GP in this respect. Insects are not a major problem but you must take precautions to avoid health risks. Anti-malaria tablets are recommended, please consult your doctor for advice.
What's included?
Half-board accommodation
All ground transport including airport transfers
All Entrance Fees, Ferry Fees and boat trips
The services of the guides
A 'Wingspan' species checklist
What's not included?
Scheduled flights to/from – Banjul
Travel insurance
Lunches
Alcoholic Drinks and purchases of a personal nature
FOR FURTHER DETAILS AND TO BOOK THIS TRIP PLEASE EMAIL:
info@wingspanbirdtours.com
or call us on 01935-426152, International +44 1935-426152
Latest Trip Reports
Gambia November 2019 : Tuesday, November 12, 2019 - Tuesday, November 26, 2019

This was a triumphant return to the Gambia for WINGSPAN BIRD TOURS after an absence of two years. We had a marvellous group made up of four Americans and four British participants, all equally enthusiastic and anxious to find as many spe...

View Report

Gambia November 2016 : Tuesday, November 22, 2016 - Tuesday, December 6, 2016

Another exciting tour of this fantastic African West Coast country, the birds are simply stunning and in such high numbers you cannot fail to amass a superb list. Everywhere is easy to get to and not far away, the upriver section holds a...

View Report