Birds and Butterflies SUMMER BREAK including 7 nights - £1250 (no single supplement)
JULY 28TH - AUGUST 4TH 2024
From early June until late September the variety of butterflies on the wing in Andalucia is prolific. Over 140 species have been recorded in the region and many are found on our doorstep here in Gaucin.
These summer breaks combine both bird and butterfly watching to give you a huge insight into the wealth of the Andalucian wildife. Your accommodation is the same as with our regular bird-watching tours and are detailed on our accommodation pages.
The Birds
During these short-breaks some time will be spent looking for breeding birds species of mountain, river, woodland and coastal lagoons; there are a few unusual species found in our area such as White-rumped and Alpine Swifts, Bonelli's Eagle, Rufous Bush Robin, Spectacled, Olivaceous and Orphean Warblers, Crested Tit, Firecrest and Cirl Bunting. Down at the coast we can look for Collared Pratincole, Stone Curlew, the re-introduced BALD IBIS, also Eagle Owl and several waders, gulls, terns, herons and egrets.
An evening outing may produce sightings of Red-necked Nightjar, Little, Tawny and Barn Owl as well a couple of mammals including the GENET.
A day in the mountainous region of The Serrania de Ronda will provide us with an opportunity to look for Bonelli's & Golden Eagle, Black Wheatear, Rock Sparrow, Rock Bunting, Spectacled Warbler and Rock Thrush. All in all this is a great summer trip with some glorious weather, great birds, wonderful butterflies and beautiful scenery.
All you have to do is book your own flights and travel insurance and leave the rest to us.
The Butterflies
Wherever we go there will be butterflies on the wing, the most common at this time of the year are Cleopatra, Two-tailed Pasha, Marbled Whites, Swallowtails, Monarch, Fritillaries, many Blues including Marazine, Spanish chalk-hill, Green-underside,Iolas,Adonis & Silver-studded. There are also several Graylings, Heaths, Whites, Hairstreaks, Gatekeepers and lots of Skippers to keep us busy.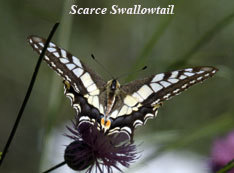 For the more enthusiastic butterfly watcher we can take a more thorough search in the Sierra de la Grazalema Natuonal Park which is a prime location for many species. Most notable records for the park include mallow, southern marbled, sage and safflower skippers, both swallowtails, Spanish festoon, black-veined white, large tortoiseshell (often on the wing from February onwards), cardinal, many fritillaries - Niobe, Queen of Spain, Provençal, knapweed, Aetherie, Spanish and marsh - two-tailed pasha, dusky heath, dusky meadow brown, Spanish and southern gatekeepers, rock, tree and striped graylings, nettle-tree butterfly, Spanish purple, blue-spot and Provence hairstreaks, purple-shot copper (subspecies boyarensis), long-tailed, African grass, Osiris, Lorquin's, Green-underside, Iolas, Panoptes, False Baton and Spanish Chalk-hill blues.
Another excellent area for butterflies is the nearby Sierra de las Nieves a parque natural of some 20,172ha and also a Biosphere Reserve. This karst landscape is found to the east of Ronda incorporating extensive Spanish fir forests. On the higher north-facing slopes the parque supports abundant Spanish Lorquin's and Green-underside Blues, Spanish fritillary, Western Marbled White and many butterfly species mentioned above.
Included in this 5 day tour:
Airport Transfer
All meals
Accommodation in apartments in the idyllic 'White Village' of Gaucin
3 full days bird/butterfly watching plus as much as time allows on arrival and departure days.
All ground transport
The services of the guide
Welcome reception
Seasonal bird & butterfly checklist.
What is not included?
Air fares
Personal holiday insurance
All items of a personal nature, i.e. Drinks and telephone calls.
To book these short-breaks please use the contact form or call us on the telephone numbers shown below.
Latest Trip Reports